ADVENTURES IN THE BEETROOT FIELD
Independent promotions collective AITBF live by the motto 'New Music With Some Reference Points'. Since the beginning, they've thrown a mixed bag of DJs and live acts under one roof to see what happens, always endeavouring to cover as broad a musical spectrum as possible, while somehow maintaining coherent threads. From their annual Easter Thursday Fabric takeover, to curating the biggest tent at Field Day and running grass roots festivals such as Nail The Cross and Stag & Dagger, AITBF have always made their business to cultivate new talent and help them on their way to greatness. An endless list, including the likes of The XX, Florence and the Machine, Boys Noize, No Age, Joy Orbison and the Mystery Jets have come up through their ranks.
GIRL UNIT
Originally starting out DJing under the name Girl U No Its True around 2007, Girl Unit has been producing since about the age of 17. His productions finally started picking up in 2009 and put out his first ep, IRL on the Night Slugs label early in 2010. Girl Unit aims to produce physical 808-based club tracks that serve to project his love for RnB/rap music and regional US. club music styles.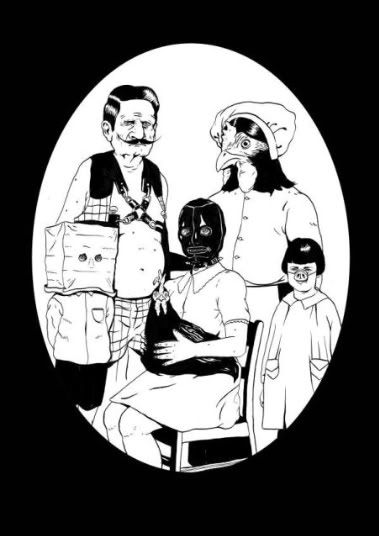 BECOMING REAL
Becoming Real is a young producer based in the suburbs of nowhere, channeling his very own post-apocalyptic vision of London. A haunted and haunting spectre, his self-termed Ghost soundscapes are as much influenced by a conceptual future dystopia as they are by luminaries Zomby & Mount Eerie.   Re-imagining the iciest of grime synths through a warped K Records aesthetic, Becoming Real has forged a frozen sound that still retains an unequivocally human touch. Charged with ominous dread, this is music for seas drowned in oil, tar-coated forest landscapes, and a future world of underwater clubs and spooked dancefloors.               
UNTOLD
There are few producers who have an indelible audio stamp. Jack Dunning aka Untold is one of the lucky few. Owner of Hemlock Recordings with releases on prestigious labels including Hotflush and Hessle Audio and remixes for the likes of Pangaea and Milanese, London based Untold's unique take on dubstep has already won him an army of fans and admirers.
NO PAIN IN POP
///NO PAIN IN POP\\\ is a New Cross record label that throws parties, whilst holding it together to commit some of the most exciting bands around to wax, such as Nite Jewel, Health and A Grave With No Name. It would be churlish to confine their musical boundaries to the latest buzz-words, so we won't!
MUMDANCE
In today's music world every man and their dog is embracing eclecticism. Yet can anyone name a DJ capable of playing both grime rave Dirty Canvas and hipster disco Bugged Out! in one weekend? Or a producer as adept in the studio with tech house heavyweight Brodinski as indie-singer Esser, and grime MC Jammer?
Step forward Mumdance, or Jack Adams, a 26-year-old producer and DJ from Brighton, whose trademark raw, riotous rhythms – drawn from Grime, UK funky, Brazilian baile funk, Caribbean calypso, American Baltimore Gutter, Afro-beat, High life, and Latin ghetto music such as tribal guarachero - have been electrifying dancefloors worldwide over the last couple of years, providing him with a hectic DJ schedule which criss-crosses the globe from Australia, Mexico, North America, Europe & all over the UK.