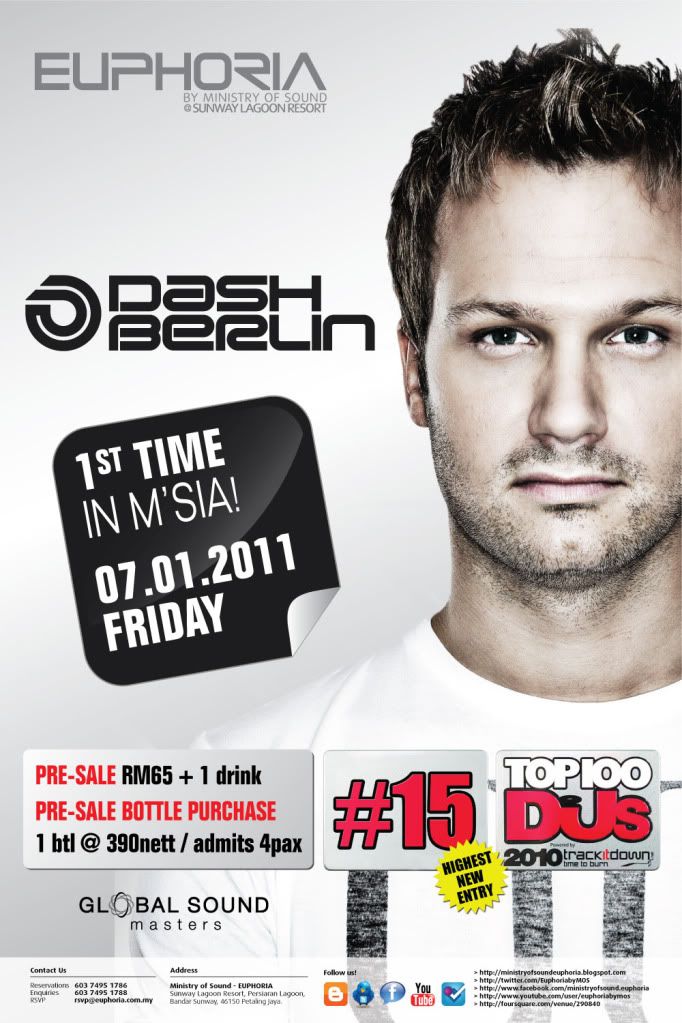 Ministry of Sound - EUPHORIA presents ...
DASH BERLIN - 1st time in Malaysia
***********
Dash Berlin aka the "Flying Dutchman" is one of the fastest rising stars in the DJ scene. The Dutch trance DJ has seen a successful year in 2010, escalating his way to #15 in the DJ Mag as the highest new entry of 2010. This exceptional achievement is backed his fantastic "New Daylight 2010 World Tour" that have spread his influences far and wide to all corners of the world.
There is no stopping for the trance maestro as he has already prepared to further extend his reach to various regions of the world starting in January 2011 itself. Watch out as the man who has charmed millions with his paramount tracks make his way to Malaysia for the very first time this 7th January 2011. Dash Berlin is set to electrify the dance floors of Ministry of Sound – EUPHORIA and bring to you an impressive night that many others have enjoyed during his tour around the world. The man behind the sensational hits "Till The Sky Falls Down", "Man On The Run", "Waiting" and "Never Cry Again" will be showcasing them live for one night only. Expect nothing less.
Warm up by le funkt.studio
For full event information, please log on to
www.globalsoundmasters.com/euphoria/
Facebook event page:
www.facebook.com/#!/event.php?eid=168416493200756
??????????????????????????
<< ADMISSION >>
PRE-SALE TICKET:
RM65 inc 1 drink
PRE-SALE BOTTLE PURCHASE:
RM390.00 per bottle – Admits 4 pax
Book Online Now:
bit.ly/gsmbookings
??????????????????????????
<< RESERVATIONS >>
For pre-sale and bookings:
+603 8993 9157
bit.ly/gsmbookings
For club reservations:
+603 7495 1786 / +603 7495 1789
??????????????????????????
<< DOOR POLICY >>
18+ years. ID is required. No sandals, no shorts, no hats of any kind
Log on to our website and don't forget to add us in Facebook:
www.globalsoundmasters.com/euphoria/
www.facebook.com/gsm.trancenation