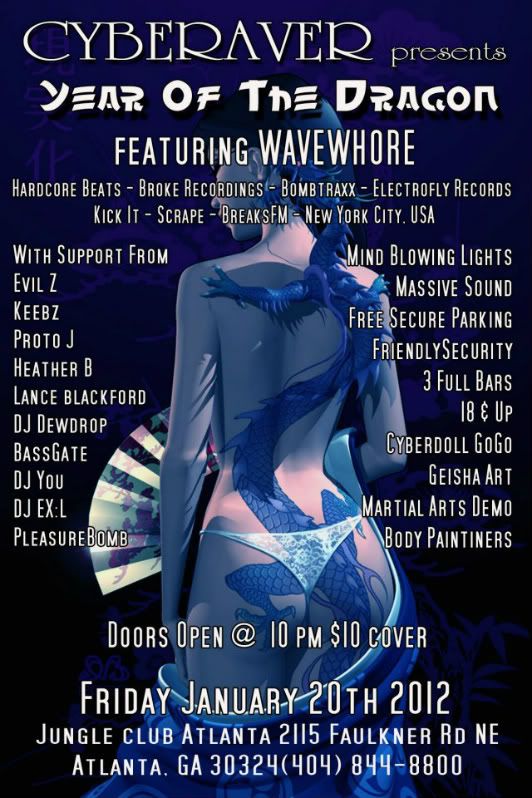 Cyberaver Presents…
YEAR OF THE DRAGON
Friday - January 20 - 2012
Featuring: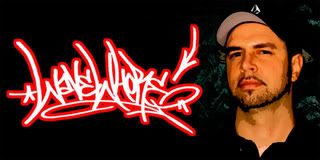 WAVEWHORE
Hardcore Beats - Broke Recordings - Bombtraxx - Electrofly Records – Kick It – Scrape - BreaksFM – New York City, USA
With releases on high profile record labels such as Hardcore Beats, Broke, Electrofly, Bombtraxx and Kick It, New York City based Wavewhore has established himself as one of the USA's leading electronic bass music producers. His skills behind the decks have also led to headlining appearances across the US and in Europe and his music and DJ performances have been featured on many of the world's top broadcast media outlets including BBC Radio 1 London, WKTU 103.5 FM New York, KISS FM London, RTE Dublin, Sirius Satellite Radio and MTV.
Wavewhore has been called a "breakbeat master" by Liquid Todd (Sirius Satellite Radio) and "one of the USA's finest breakbeat DJ/producers" by Jay Cunning (KISS FM London) while breakbeatonline.com described him as "NYC's finest export since the Beastie Boys". He began his career as a guitarist performing in clubs while he was still in high school and his first electronic release dates back to 1992. His music has also received high level support from many of the top names in the business including Aquasky, DJ Icey, Jackal & Hyde, The Freestylers, General Midi, Elite Force and many more.
www.facebook.com/wavebreaks
www.twitter.com/wavewhore
www.soundcloud.com/wavewhore
EVIL Z
K33BZ
PROTO J
HEATHER B
LANCE BLACKFORD
DJ DEWDROP
BASSGATE
DJ YOU
DJ EX:L
PLEASUREBOMB
@ Jungle Club
2115 Faulkner Road NE
Atlanta, GA 30324
Massive Sound
Mind Blowing Lights
FREE PARKING
Friendly Security
3 Full Bars
Cyberdoll Gogo
Geisha Art
Martial Arts Demos
Body Painters
18 & up welcome
Doors open 10pm sharp
$10 cover
Facebook Event Link: http://www.facebook.com/events/161025497338356
Region /
United States of America, Georgia
Line-up /
Wavewhore, Evil Z, K33BZ, Proto J, Heather B, Lance Blackford, DJ Dewdrop, Bassgate, DJ You, DK EX:L, Pleasurebomb
Roll call
1 members attended this event:
You're not logged in. You should register here.