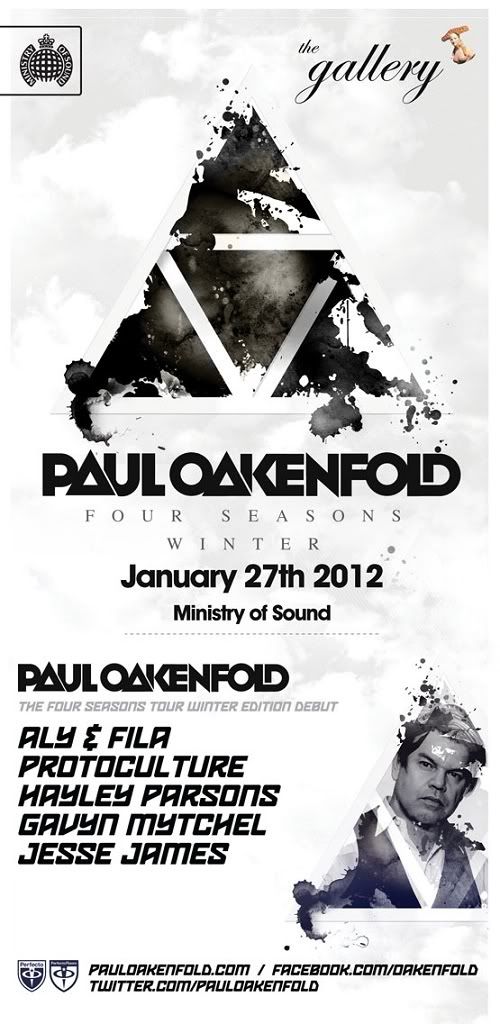 The Gallery Pres. Paul Oakenfold - Four Seasons Tour
Friday 27th Jan 2012
Box
Paul Oakenfold
Aly & Fila
Protoculture
103 - House Music All Night Long
Hayley Parsons
Gavyn Mytchel
Jesse James
Hausmann
Baby Box - Systematic MovementsLoft - Plastic Fondu
Last May saw Oakenfold deliver possibly THE set, of his illustrious Gallery career - tough, dark trance with psy inferences. Paul's Full On Fluoro concept rejuvenates that sound, evolving it for 2012. This is enveloped under The Four Seasons Tour – Winter Debut. Forget Southern Sun, we're yearning for some southern snow! Which leads nicely to Aly & Fila, We Control The Sunlight now the peak time choice of any trance DJ. Finally South Africa's No.1, cherished by The Gallery faithful after Protoculture's October debut.
-The Gallery-
Ministry of Sound
103 Gaunt Street, London, SE1 6DP
Tube: Elephant & Castle
Price: £12 Members & Students, £15 Advance...
Contact: 020 3142 6756
gavyn@thegallery-club.co.uk