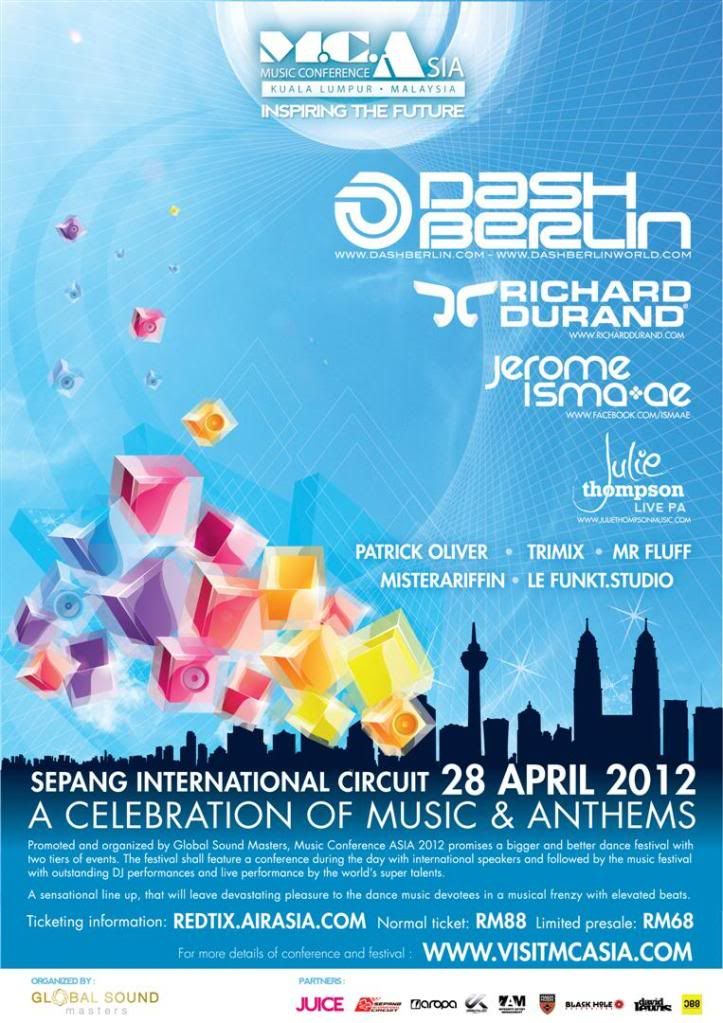 MUSIC CONFERENCE ASIA 2012
A CELEBRATION OF MUSIC AND ANTHEMS
After three successful events, Music Conference ASIA (MC Asia) returns for the fourth time this April, 2012 with a difference! Proving herself to be an event worth attending, MC Asia assures her fans that this year will be a spectacular showcase of talents and music that will blast off the charts!
Promoted and organized by Global Sound Masters, Music Conference ASIA 2012 promises a bigger and better dance festival with two tiers of events. The festival shall feature a conference during the day with international speakers and followed by the music festival with outstanding DJ performances and live performance by the world's super talents.
A sensational line up, that will leave devastating pleasure to the dance music devotees in a musical frenzy with elevated beats.
************************
Music Conference ASIA 2012
Date: 28 April 2012
Venue: Sepang International Circuit, Malaysia
PRESALE (LIMITED): RM68 - Sold out!
NORMAL: RM88
Artists:
Dash Berlin
Richard Durand
Jerome Isma-ae
Julie Thompson
Patrick Oliver
TRIMIX
misterAriffin
Mr Fluff
Le Funkt. Studio
Get your tickets from REDTIX now:
redtix.airasia.com/Events/MusicConferenceAsia2012/