Salut !!
« CLUF » … La rencontre de la teuf et du club … 2ème couche !
Cluffeuses ! Cluffers ! Rendez-vous le SAMEDI 19 MAI à partir de 20h et ce jusqu'à 2h du mat !
!! DEEP, HOUSE-TECHOUSE, MINIMAL, TECHNO !!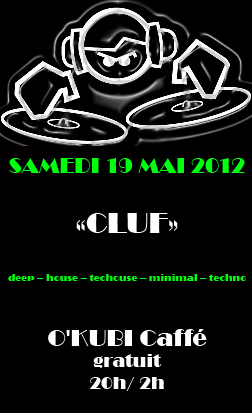 Avec, pour un bon déroulement des opérations, des moniteurs de Cluffing triés sur le volet :
ELECTROCAINE (JUST A TRIP)
soundcloud.com/electrocaine-1
www.facebook.com/electrocaineofficial
Compositeur, remixeur, Dj, il se passionne pour la musique electronique depuis sa plus tendre enfance ...
Dans le courant de l'année 2011 il remixe deux artistes, MELANOBOY sur son premier EP "STAY ALERT" (Foundry Records) et avec ce dernier ils composent un remix pour l'allemand MISTER ROY sur son dernier EP (Black Leather Records) ...
En Septembre 2011 il abandonne tous ces projets pour se consacrer uniquement au Djing et à la composition, il est invité à mixer pour différents évènements, entre autre début Octobre pour la soirée "SHOCKER" au 4 ELEMENTS.
Il crée également le groupe "JUST A TRIP (J.A.T)" sur Facebook et co-organise peu de temps après les soirées "JUST A TRIP" avec plusieurs collaborateurs ...
ROHAN (PME)
soundcloud.com/juanelromano
Rohan Ranjan également connu comme Juan El Romano est un DJ caméléon. Refusant d'être classés en tout genre, ses dj sets sont libres de la création, allant de la house-techouse à l'électro à la psytrance, du dubstep à la drum and bass ... et tant d'autres styles.
Ses racines remontent à la techno et rave au début. Apprendre à partir de tout type, il a surtout joué aux côtés de Electric Indigo, Smash TV, Asian Dub Foundation, Dj First Rate (Scratch Perverts) dans les clubs parisiens divers (Batofar, Java, etc ..)
Depuis 2008, Rohan est l'exécution d'un crew de DJ à Paris, appelé PME Panorama des Musiques Électroniques. Cette association tente d'aller au-delà de tous les points de référence.
MOOSTIK (VOLUM' / CC PROD)
www.myspace.com/moostikmix
soundcloud.com/moostikclufrun1/moostik-cluf-run-1
C'est en 90 qu' il découvre la culture techno au travers des raves "Fantôm".
De sa collaboration avec Kiab née l'association NOT, l'une des premières orga de leur région, et jouera avec Miss hind, Laurent Hô ( Radikal Groove Rec), Joey Beltram, Jhon Thomas ( Logistic Rec.)...
En 2000, il prend la programmation de la webradio Bdcone.com puis en 2005 une résidence à la CRYPTE et enfin en 2008 la programmation électro du COMPLEXE (Bordeaux), soirée dans lesquelles il jouera aux cotés de The Producer, Speedfreak, Aaron Liberator, Ixi, 69db ...
En 2010, il revient sur Paris et crée la production Volum' avec entre autres le projet «THE BOX» avec Unu, Konix, Lowkey, Kardinal, ...
Schizophrène musical, ses horizons sont multiples : deep, house, techouse, techno, minimal, acid'techno, breakbeat …
www.volumevents.com
Facebook: Volum' Events Paris
Twitter: volumparty
O'KUBI Caffé, 1ère salle de cluffing française !
219 rue st Maur
75010 Paris
Métro Goncourt - Colonel Fabien
Cluf' line : +33 (0)1.42.01.35.08
okubi@hotmail.fr
www.myspace.com/okubi
!! HAPPY HOUR 18:00 / 20:00 BIERE À 2EUROS !!
Consommations abordables (demi: 2.80 / vin: 3.00 / cocktails: 7 / whisky: 6 et Marie est la reine du mojito... elle est pas belle la vie !)
Réservation de groupe possible pour soirée anniversaire ou soirée entre amis...
Bar gay friendly (filles et garçons).
Né il y a quatre ans dans un quartier populaire entre le canal St-Martin et Belleville l'Okubi dispose d'un espace ouvert pour voir la vie en rose ainsi qu'une salle au sous sol pour accueillir un mini club.