Salut !!!
«YOU SHOULD BE DANCING»
Dans un joyeux bric à brac d'house, de techouse, de minimal, de techno, d'electro'break et de dubstep les 3 compères se chargent de te servir une before des plus déjantées ...
ça se tient le VENDREDI 18 MAI dès 20h...
Au pub le Bric à Brac, rue Oberkampf / Paris 11èm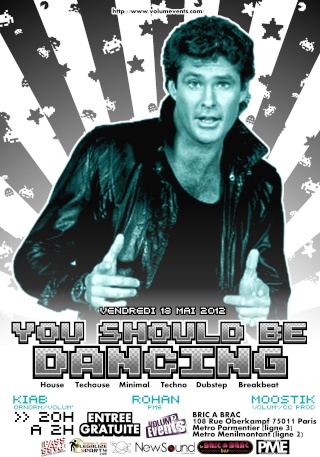 Et l'entrée est free !
dj'sets:
ROHAN (PME)
www.myspace.com/infectedansy
soundcloud.com/infectedansy
Rohan Ranjan également connu comme Juan El Romano est un DJ caméléon, ses dj sets sont libres de la création, allant de la house-techouse à l'électro à la psytrance, du dubstep à la drum and bass ...
Ses racines remontent à la techno et rave au début. Apprendre à partir de tout type, il a surtout joué aux côtés de Electric Indigo, Smash TV, Asian Dub Foundation, Dj First Rate (Scratch Perverts) dans les clubs parisiens divers (Batofar, Java, etc ..)
Depuis 2008, Rohan est l'exécution d'un crew de DJ à Paris, appelé PME Panorama des Musiques Electroniques. Cette association tente d'aller au-delà de tous les points de référence.
KIAB (Volum' / Ornorm)
www.myspace.com/djkiab
soundcloud.com/dj-kiab
A ce jour, dj KIAB affine son style dans des sonoritées ELECTRO TEK , TECH HOUSE , MINIMAL et parviens à mettre d'accord aussi bien son public qui lui reste fidèle depuis des années que la nouvelle generation qui le découvre dans des lieux comme la SCENE BASTILLE, le 4 ELEMENTS, le CERCLE ROUGE, BATOFAR et BELUSHI ' S, CAES, le COMPLEX.
MOOSTIK (Volum' / CC Prod)
www.myspace.com/moostikmix
soundcloud.com/moostikclufrun1/moostik-cluf-run-1
C'est en 90 qu' il découvre la culture rave au travers des manifestations "Fantôm".
En 2005, on lui propose une résidence à la CRYPTE puis prend en 2008 la programmation électronique du COMPLEXE à Bordeaux, il y sera l'instigateur de projets comme la soirée avec Jeff23, Josy, Ixi, Audiogenic rec. (aux coté de The Producer et Speedfreak), Aa ron Liberator...
A l'initiative de l'organisation Volum' avec les soirées «THE BOX», il a joué avec Lowkey, Kardinal, Unu, Konix ...
Schizophrène musical, ses choix musicaux sont multiples : deep house, house, techouse, techno, minimal, acid'techno, breakbeat …
Ce soir le funk sera house-electro'break …
BRIC à BRAC
108 rue Oberkampf
75011 Paris
M° Parmentier (ligne 3) / M° Ménilmontant (ligne 2)
Facebook : https://www.facebook.com/LEBRICABRACBAR
www.volumevents.com
Facebook: Volum' Events Paris
Twitter: volumparty