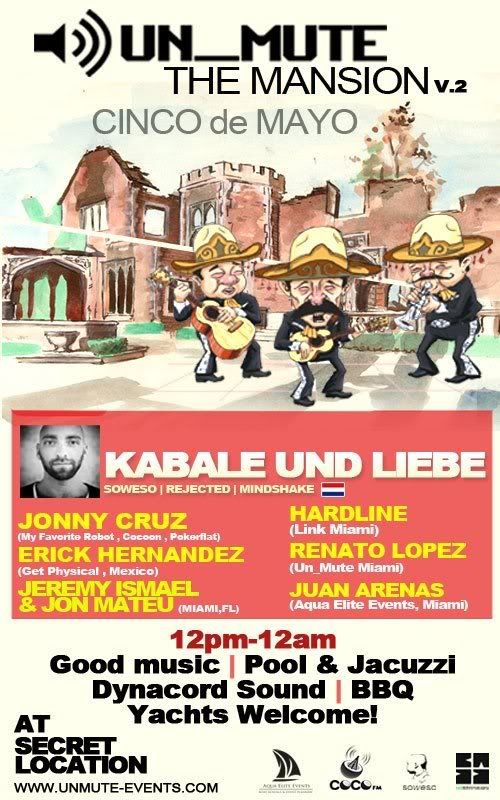 Saturday Cinco De Mayo,
UN_MUTE proudly presents,
UN_MUTE THE MANSION v2
''Special guest from Netherlands''
KABALE UND LIEBE ( Soweso , Rejected , Mindshake)
www.residentadvisor.net/dj/kabaleundliebe
Alongside Local Heroes
- Jonny Cruz
- Jeremy Ismael & Jon Mateu b2b
- Erick Hernandez
- Hardline
- Renato Lopez
- Juan Arenas
12:00 pm - 12:00 am
Private Mansion
Pool & Jacuzzi
Ocean bay view
Dynacord
Bbq & More!
Purchase your tickets:
www.wantickets.com/Events/105556/UN-MUTE-the-Mansion-w-KABALE-UND-LIEBE/
For more info:
Benjamin Acero
754-422-2917
Region /
United States of America, Florida
Line-up /
Kabale Und Liebe, Jonny Cruz, Jeremy Ismael, Jon Mateu, Erick Hernandez, Hardline, Renato Lopez, Juan Arenas
Cost /
Ladies $10 / Gentlemen $20 via Wantickets.com
Roll call
3 members attended this event:
You're not logged in. You should register here.