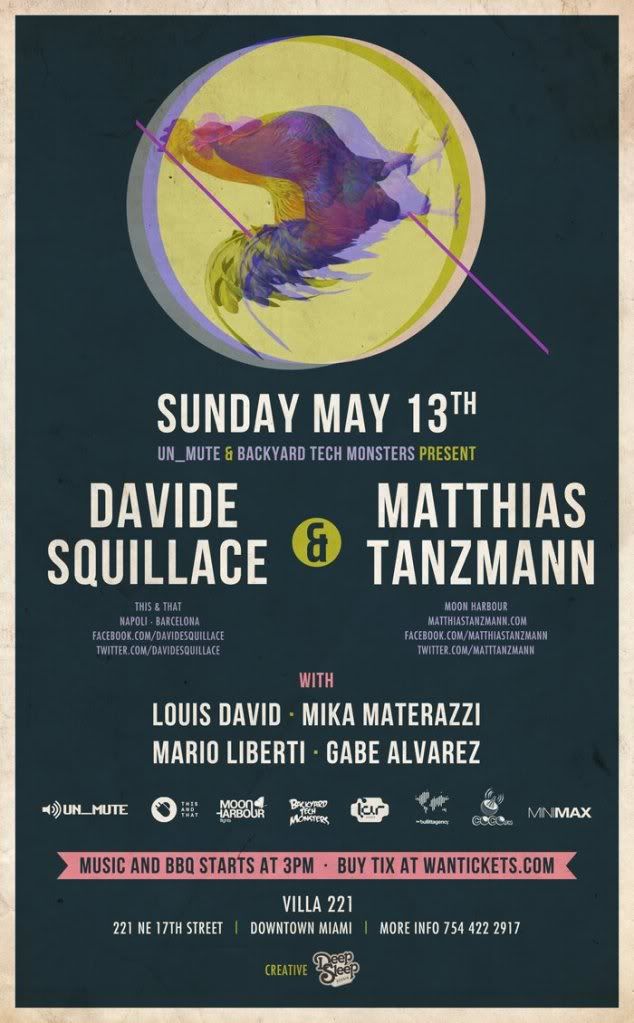 Un_Mute has many different concept events. But our favorite is definitely our 12 hour Sunday Funday marathons @ The Electric Pickle. We kick off at 4pm at the outdoor patio with FREE BEER & FREE BBQ for all of our guests. We have music both outside in the patio with headliners and we also provide a local stellar line up in the first floor of the pickle till midnight. At 12 midnight we close both the patio and downstairs and move the show to the bolero room till 5am!
It has worked perfectly with Onur Ozer , Nina Kraviz , Lee Burridge , Dario Zenker , Benoit and Sergio among others.
So we are ready to take this concept to the next level.
Sunday May 13th ,
UN_MUTE proudly presents,
SUNDAY FUNDAY w/
DAVIDE SQUILLACE
www.thebullitagency.com
www.facebook.com/davidesquillace
www.thisandthatlab.com
B2B
MATTHIAS TANZMANN
www.matthiastanzmann.com
www.moonharbour.com/
Alongside:
Louis David
Mika Materazzi
Mario Liberti
Gabe Alvarez
Villa 221
221 NE 17th Street, Miami, FL 33132
villa221.com/
Doors: 4:00 PM - 5:00 AM
Region /
United States of America, Florida
Line-up /
Davide Squillace, Matthias Tanzmann, Louis David, Mario Liberti, Mika Materazzi, Gabe Alvarez
Cost /
$20 Early Bird Tix @ Wantickets.com
Roll call
14 members attended this event:
You're not logged in. You should register here.