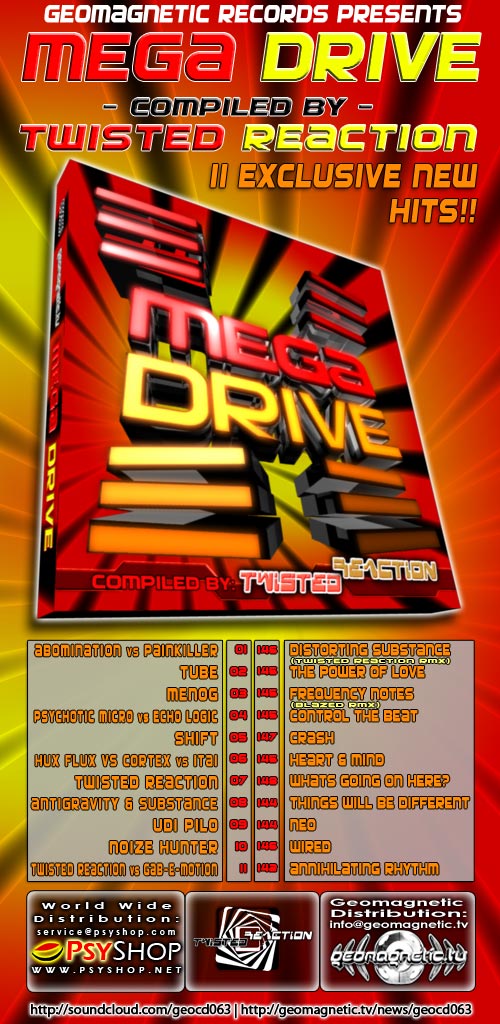 Mega Drive V/A by Twisted Reaction
www.psyshop.com/shop/CDs/geo/geocd063.html
<- Buy!
Title: Mega Drive
Artist: Various / Twisted Reaction
Label: Geomagnetic.tv
Catalogue: GEOCD063
Format: 2-Panel JewelCase Audio CD
Barcode: 881034501479
Release: June 2011 World Wide
TRACK LIST:
1. Abomination vs Painkiller - Distorting Substance (Twisted Reaction rmx)
2. Tube - The Power Of Love
3. Menog - Frequency notes (Blazed rmx)
4. Psychotic Micro Vs. Echo Logic - Control The Beat
5. Shift - Crash
6. Hux Flux Vs Cortex Vs Itai - Heart & Mind
7. Twisted Reaction - Whats Going On Here?
8. AntiGravity & Substance -Things Will Be Different
9. Udi Pilo - NEO
10. Noize Hunter - Wired
11. Twisted Reaction vs. Gab-E-Motion - Annihilating Rhythm
RELEASE NOTES:
Geomagnetic Israel has the pleasure of presenting to you a compilation featuring 11 tracks from the "Mega Drive" of Twisted Reaction. Abomination and Painkiller get their "Distorting Substance" reacted and twisted by Twisted Reaction. Tube sends us the most important message about "The Power of Love" we all need. Blazed, the project of Twisted Reaction and Zorflux remix our brains with the "Frequency Notes" of Menog. When Dj's listen though this cd they will know how to "Control The Beat" thanks to Psychotic Micro creating a killer trip with Echo Logic. When you feel like you want to "Crash" around on the dance floor then Shift has laid down just the smasher for that. We find out how the "Heart And Mind" is effected by listening to the music from the hearts and minds of Hux Flux, Cortex and Itai. In the middle of the cd Twisted Reaction asks us "What's Going On Here?" we answer, "dancing!" When reach a full trance you know "Things Will Be Different" AntiGravity and Substance help you gain that knowledge. Taking us out to the wilds of "Neo" Israel, Udi Pilo gets his first Geomagnetic release. There's no doubting that Noize Hunter knows how to get us all "Wired" into his new hit sound. Then there was an ending track to this full-power journey the "Annihilating Rhythm" of Twisted Reaction of Gab-E-Motion to be played at all parties.
Edvin Alperavich is Twisted Reaction born in Lithuania, now
living in Israel. When releasing his debut album "Action" in 2006 on Geomagnetic Israel he became the first of many international artists to release with the label. Now, Edvin is taking off with his project and has gained international recognition. Albums with his side projects as "Blazed" with Vasco Zorflux are primed to take your ears for a ride in the near future.
www.myspace.com/twistedreaction
soundcloud.com/blazed-enzyme-phantasm
www.myspace.com/blazedlive
Morningstar is a subdivision of Geomagnetic Records. Uplifting, melodic, full-on, progressive and perfect for those ecstatic moments of sunshine and awakening, the Morningstar label knows you want to be carried on a cloud of feel-good grooviness as you welcome the morning light! www.myspace.com/geomagnetic
Geomagnetic.tv was established in the summer of 2001. Their first major international release is the legendary DVD project "MAGNUS" geodvd001. Since then the label has grown into a full fledged major electronic music and media label. Based in San Francisco and focusing mostly on music and visual related projects, you can expect to see lots more cutting edge releases on the way from this award winning crew! Geomagnetic.tv was started by Spook one of the founders of the prominent San Francisco 3D FX and Multimedia boutique known as Minds Eye Media (est.1995). www.mindseyemedia.com
CREDITS
Distribution: Psyshop.com / Ingrooves©
Geomagnetic.tv / Morningstar Rec / Geo-Israel
geomagnetic.tv/news/geocd063
info@geomagnetic.tv
mp3 Samples online:
soundcloud.com/geocd063/sets
http://www.psyshop.com/shop/CDs/geo/geocd063.html