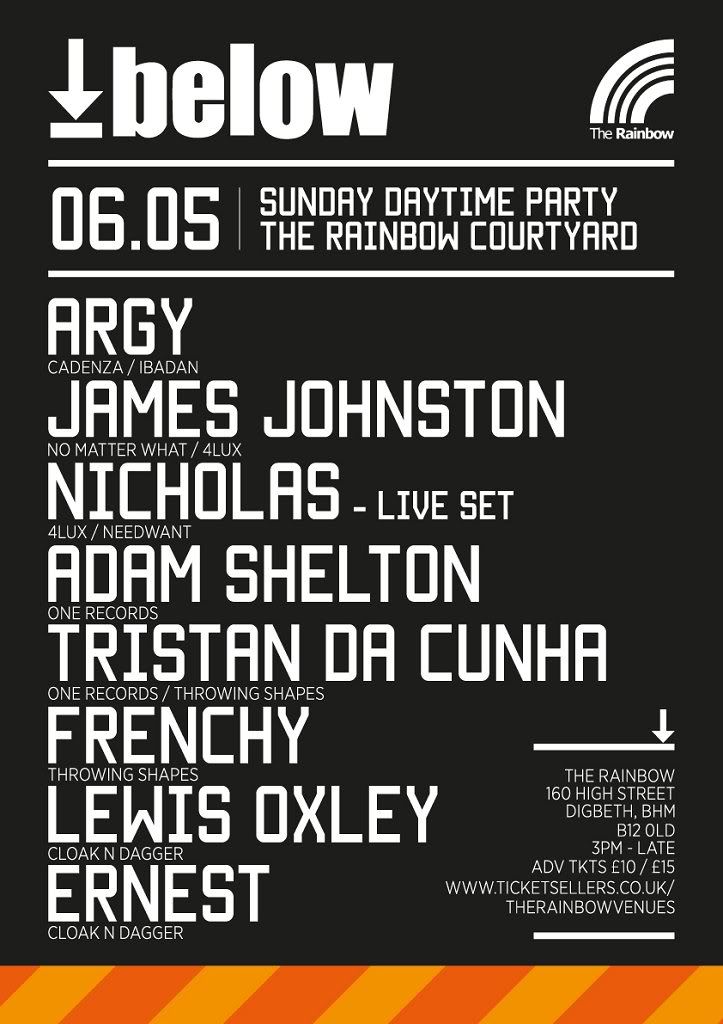 Below Sunday Daytime Party at Rainbow Pub
Date : Sunday, 6 May 2012
Time : 3:00pm - 3:00am
Venue : Rainbow Pub/ 160 High St, Digbeth, Birmingham, B12 0LD
Cost : £10, £15
Argy
James Johnston
Nicholas
Adam Shelton
Tristan Da Cunha
Frenchy
Lewis Oxley
Ernest
Starting at 3pm, this event will be another must attend session from Below who have years of experience of putting on some of the best parties in the country. Headline act and Grecian Argy has been recording for years and Cocoon, Raum and Pokerflat have all come for his powerful, metallic tech productions in that time. Through his natural talent for mixing in-key and constantly searching out the finest grooves, his DJ sets know no musical boundaries so Argy excels in creating a real party soundscape that works perfectly in the current club world.
Next is James Johnston of 4Lux and No Matter What Records. Flashback to the late 80's/early 90's and this is where James' love affair with house began - peaking in 93/94 where every Saturday night involved a mandatory session at Glasgow's iconic house & techno pantheon Sub Club. As such that classic vibe runs through all he does in the modern day so a set from him will fit perfectly with the current house mood.
Also releasing his own brand of retro tinged, classic deep house on Illusion and many other boutique labels is Italian wonder kid Nicholas. His recent remix of old Nu Groove material from the 90s for Need Want was one of the best of recent times, whilst his own productions are just as timeless. Tonight he will be doing one of his famed live sets so get ready to be wowed.
One Records boss and local hero Adam Shelton also spins with Back to Basics residents, house stalwarts and 2/3rds of the team behind hot new Leeds venue The Garage, namely Tristan da Cunha and Frenchy, as do regulars Lewis Oxley and Ernest of Close & Dagger association. House music all day and night long!