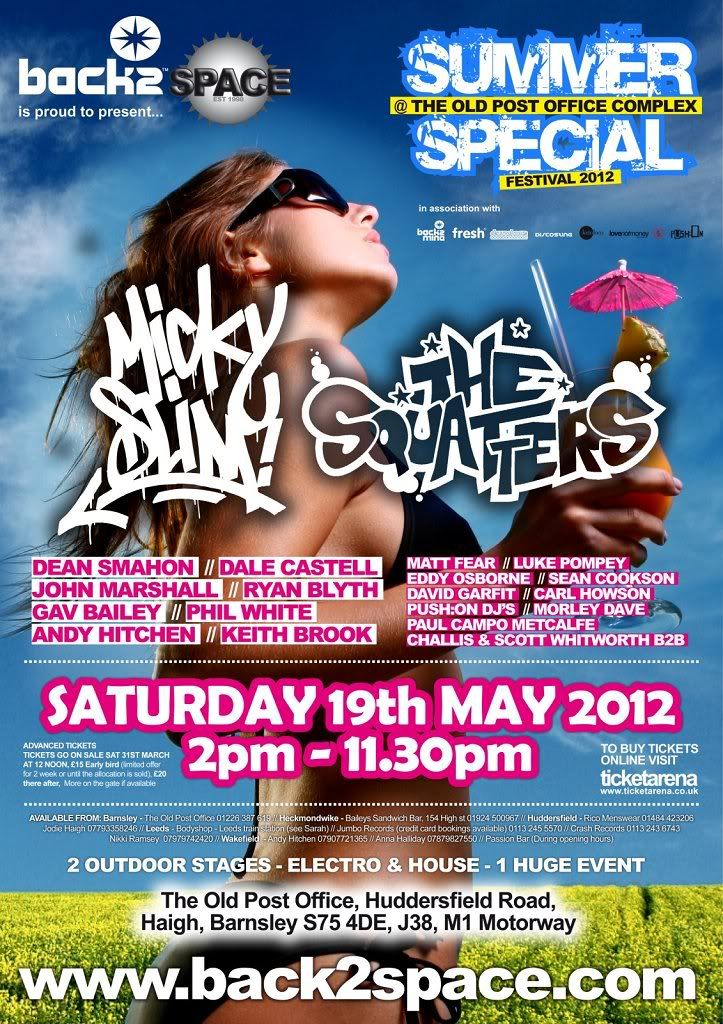 Date / Saturday, 19 May 2012
Time / 2:00pm - 11:30pm
Venue / Old Post Office  / Huddersfield Road
Cost / £20
Line-up /
Mickey Slim - Feat. Majestic Live, The Squatters - Feat. Dutch Courage Live, Dean Smahon, Dale Castell, John Marshall, Ryan Blyth, Phil White, Andy Hitchen, Luke Pompey, Eddy Osborne, Keith Brook, Sean Cookson, David Garfit, Carl Howson, Paul Campo Metcal
BACK2SPACE SUMMER SPECIAL 2012
2 OUTDOOR STAGES - ELECTRO & HOUSE - 1 HUGE EVENT
BACK2SPACE Big OUTDOOR STAGE
Electro / Dubstep / House
In Association with BACK2MINE, FRESH, DISCOSTING & DAWN CHORUS
Mickey Slim - Feat. Majestic LIVE
The Squatters - Feat. Dutch Courage LIVE
Dean Smahon
Dale Castell
John Marshall
Ryan Blyth
Phil White
Andy Hitchen
Keith Brook
THE TERRACE (Big OUTDOOR STAGE & Heated Terrace)
House & NU Disco
Hosted by Ketoloco, Love Not Money & Push:on
Luke Pompey
Eddy Osborne
Sean Cookson
David Garfit
Carl Howson
Paul Campo Metcalfe
Gav Bailey
Challis & Scott Whitworth B2B
Morley Dave
Push:on DJ's
Back2space is proud to present the ever popular 'Summer Special Festival' and what an event we have in store for you. This is the 5th year now and if you have been to the last 4 festivals then you will knoaw tht this is not to be missed. The old post office is set in a great location just off junction 38 on the M1 motorway (near Wakefield & Barnsley) and is central and easily accessed from all parts of Yorkshire.
Set in a remote location, the old post office is a large public house with lots of land so you know that only Back2space can transform this into a true festival location. With no expense spared the 3rd year at this truly amazing venue will blow you away and what we have in store for you so if you thought the last 4 Summer Specials were brilliant then wait to see what we have in store for this years event. Do not miss out on the event of the summer.
WEATHER - THIS IS AN OUTDOOR EVENT SO PLEASE COME PREPARED.
2 OUTDOOR STAGES / FUNFAIR RIDES / BEER TENT / FUNKTION 1 SYSTEM
STAGE ENTERTAINERS / DANCERS / FACE PAINTING & MORE
Dress code - Its a festival, wear comfortable footwear, most of the ground is hard but bits of grassy areas.
no sports wear or chavvy clothes
Tickets
£20, More on the gate if available.