LIKE Silk Music:
www.facebook.com/SilkMusic
Samples & Purchase:
bit.ly/SILKRL033-iTunes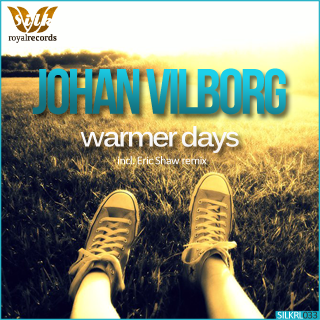 We're thrilled to welcome back Swedish progressive sensation Johan Vilborg, who returns to Silk Royal for his sophomore effort, "Warmer Days." His debut EP on our imprint, "Altara," was one of our most successful releases date, receiving DJ support from tyDi, Solarstone, Jaytech, Mike Shiver, and many more, and also reached #2 on the Beatport trance releases chart.
The Original Mix of "Warmer Days' follows in "Altara's" footsteps, with a jubilant lead theme and vocal hook, both of which evoke a true euphoria in the listener. More specifically, a gorgeously layered chord evolves into an incredibly dynamic and jubilant progression, with a light arp in the breakdown adding additional melodic texture. In the break, we are met by the heavenly vox sequence, a signature with which Vilborg has quickly become associated in his bright young career.
Fellow Swede Eric Shaw, a first-time contributor to Silk Royal, packs a bit more punch to his interpretation. A stormy kick-bassline combo sets the aggressive tone early, and "teaser" vox are also introduced in the build. In the break, the chords are pulled back and then furiously unleashed, with a dancefloor-slaughtering drop to follow.
The third track in the release, "Seashells," maintains the sunny vibes established by the lead single, while kicking up the tempo a few notches. The radiant synths and Balearic atmospheric effects center the listener on the shores of their favorite beach-side locale. Dancing arps and layered lead synths in this one coalesce to provide the perfect soundtrack to the fast-approaching summer.
Info:
Cat#: SILKRL033
Beatport release date: May 8th, 2012
iTunes release date: May 22nd, 2012
Genre: progressive trance
Format: digital
Stores: Beatport, iTunes, JunoDownload
Tracklist & YouTube Previews:
01 Johan Vilborg - Warmer Days (Original Mix)
02 Johan Vilborg - Warmer Days (Eric Shaw 'Sunvisor' Remix)
03 Johan Vilborg - Seashells (Original Mix)
More Info About Johan Vilborg:
www.facebook.com/JohanVilborg
For More Information:
facebook.com/SilkMusic
>>> Facebook page
soundcloud.com/SilkMusic
>>> SoundCloud channel
twitter.com/SilkMusic
>>> Twitter page
youtube.com/user/SilkMusicChannel
>>> YouTube channel