Back 2 Life presents: Soul II Soul
Friday 22nd June
10pm - 4am
@ Electric Brixton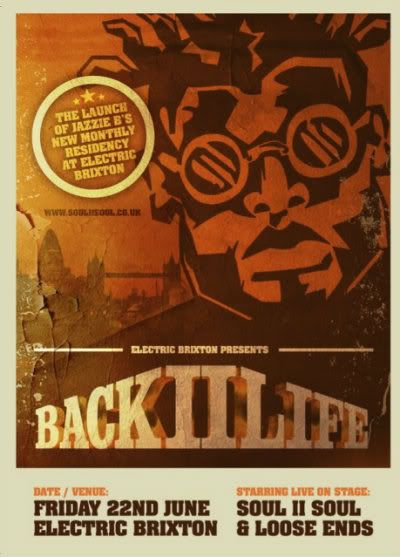 When the
Soul II Soul album "Club Classics Vol 1"
dropped in 1989, it was a seminal moment: the album became the soundtrack of a generation, heralding a new era of creativity for the British music scene. Beyond the music was a particular ethos, the rallying cry of "a happy face / a thumping bass / for a lovin' race" that tied together the various aspects of the movement.
Perhaps the most significant legacy was the club nights held throughout the nineties at The Fridge – and these are what inspired the return of Jazzie B to
Brixton
for a regular residency at
Electric Brixton
, the freshly refurbished club in the original location.
"The energy at those events was incredible – a really mixed crowd would gather here – and the main purpose was to really let go and dance. There was no room for standing on the side-lines – it was an experience"
…Jazzie B, 2012
Jazzie B
has chosen to launch his Electric Brixton residency night with an old-school theme via a live performance from the Soul II Soul soundsystem, featuring original grammy-winning singer
Caron Wheeler
. Whose soulful vocals made tracks such as "Keep on Movin'" and "Back to Life" the instant and enduring classics that they have become. Carl Macintosh from 80s Soul group Loose Ends has now also been confirmed.
Jazzie B
Caron Wheeler
Carl Macintosh (Loose Ends)
Soul II Soul DJs
22:00 - 04:00
Tickets:
Early Bird £15
Standard Ticket £18.50
www.seetickets.com/Event/SOUL-II-SOUL/Electric-Brixton/634011
www.ticketweb.co.uk/user/?region=gb_london&query=detail&event=505007
www.skiddle.com/promotion/event_overview.php?lid=293328
www.facebook.com/electricbrixton/app_108908845844850
+ available from selected Brixton outlets (TBC)