LIKE Silk Music:
www.facebook.com/SilkMusic
Samples & Purchase:
Beatport:
bit.ly/SILKRL034
iTunes:
bit.ly/SILKRL034-iTunes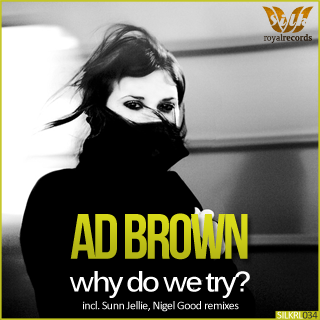 Silk Royal's 34th release, "Why Do We Try?", brings together the collective talents of three of the finest global progressive artists: Ad Brown (UK), Sunn Jellie (Ukraine), and Nigel Good (Canada). Leading the way is Ad, who has now solidified his status as one of the pre-eminent producer-DJ's of the genre, with a prolific output of acclaimed tracks, as well as a perpetually active international DJ schedule (most recently his second tour of India in the past year).
Ad's Original Mix, which is also featured on the recently released Silk Royal Showcase 02 compilation, reflects the style of peak-hour progressive that you will most typically hear at the end of his DJ sets: an aggressive rhythm and bassline, carefully balanced by characteristically emotional, melodic, and atmospheric textures. Specifically, the track is centered early on a gut-busting bassline, which receives beautiful, echoing mid-range layers as the track crescendoes into the main break, as well as the introduction of a heavenly, "teaser" vocal stab. In the main break, the melodic elements come into full focus, including a longer version of the vocal sample, delicate piano lines, and a stunning lead chord progression, which triumphantly continues through the drop.
Sunn Jellie, whose remix of Mango's "Good Morning Track" remains one of the most successful and supported cuts in Silk Royal's history, is back with an almost overwhelmingly lush and groovy progressive trance interpretation. A mesmerizing melodic atmosphere is created early, including a vocoded sample of the titular "why do we try" hook. Euphoric, dancing arpeggios are next added to the already blissful mid-range, as well as a few funky new leads. In the break, the poignant, pad-heavy soundscape will leave any unconvinced listeners completely awed by the feel-good energy.
Finally, Canadian artist Nigel Good delivers a more stripped-down, yet tremendously rich, deep, and "timeless" progressive house take. The groove and lead melodies are completely "original," almost warranting a "rework" (rather than remix) description. Yet, traces of the original track suddenly anchor themselves, such as as a brilliantly processed series of vocal stabs, which all source to the original "why do we try" spoken-word sample. In addition, in the main break, we are unexpectedly (and thrillingly) met by the lead chords of the original, which ebulliently pierce through through the otherwise pensive soundscape with striking flare. Especially suitable for the opening moments of a progressive set, or perhaps the after-hours, Nigel's take is sure to leave an indelible emotional impact on veteran progressive fans.
Info:
Cat#: SILKRL034
Beatport release date: May 22nd, 2012
iTunes release date: June 5th, 2012
Genre: progressive house, progressive trance
Format: digital
Stores: Beatport, iTunes, JunoDownload
Tracklist & YouTube Previews:
01 Ad Brown - Why Do We Try (Original Mix)
02 Ad Brown - Why Do We Try (Sunn Jellie Remix)
03 Ad Brown - Why Do We Try (Nigel Good Remix)
More Info About Ad Brown:
www.adbrown.co.uk
For More Information:
facebook.com/SilkMusic
>>> Facebook page
soundcloud.com/SilkMusic
>>> SoundCloud channel
twitter.com/SilkMusic
>>> Twitter page
youtube.com/user/SilkMusicChannel
>>> YouTube channel