If you haven't gotten your tickets yet for the 718 Sessions Boat Ride, THE LAST FEW TICKETS will be AVAILABLE today. See James at the t-shirt table for tickets. Tickets are $30 in advance.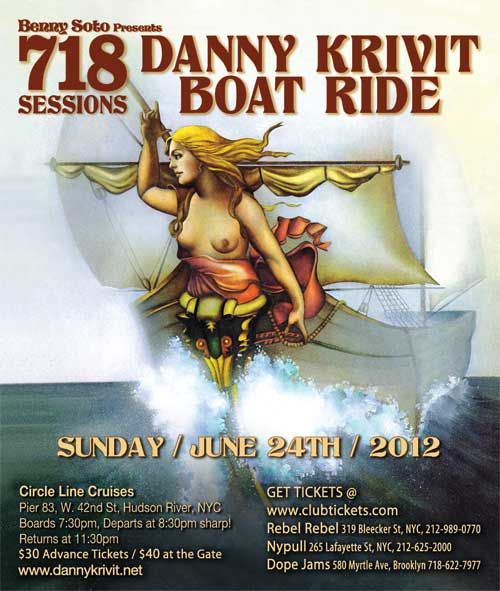 SUNDAY, JUNE 24th
Benny Soto presents..
The Annual 718 Sessions Boat Party 2012!
This is a DON'T MISS!
And it's GAY PRIDE SUNDAY...CHILDREN : )
Music by... DANNY KRIVIT!
On the WORLD FAMOUS CIRCLE LINE!
Pier 83-West 42nd Street & Westside Highway
www.circleline42.com
Boarding 7:30pm/Cruise begins at 8:30pm SHARP!
for more info email bennysoto@gmail.com
Remember to bring:
Comfortable dancing shoes or sneakers. Loose, cool clothing...and most important..A GOOD ATTITUDE & CAREFREE VIBE! Give yourselves plenty of time to get to Pier 83 on Sunday, June 27th! Please note that GAY PRIDE SUNDAY is on that day..traffic conditions on the west side will be heavy! Don't miss the boat! NO BEVERAGES OF ANY KIND ALLOWED! NO CHILDREN!
Be our friend on Facebook https://www.facebook.com/718SessionsNYC