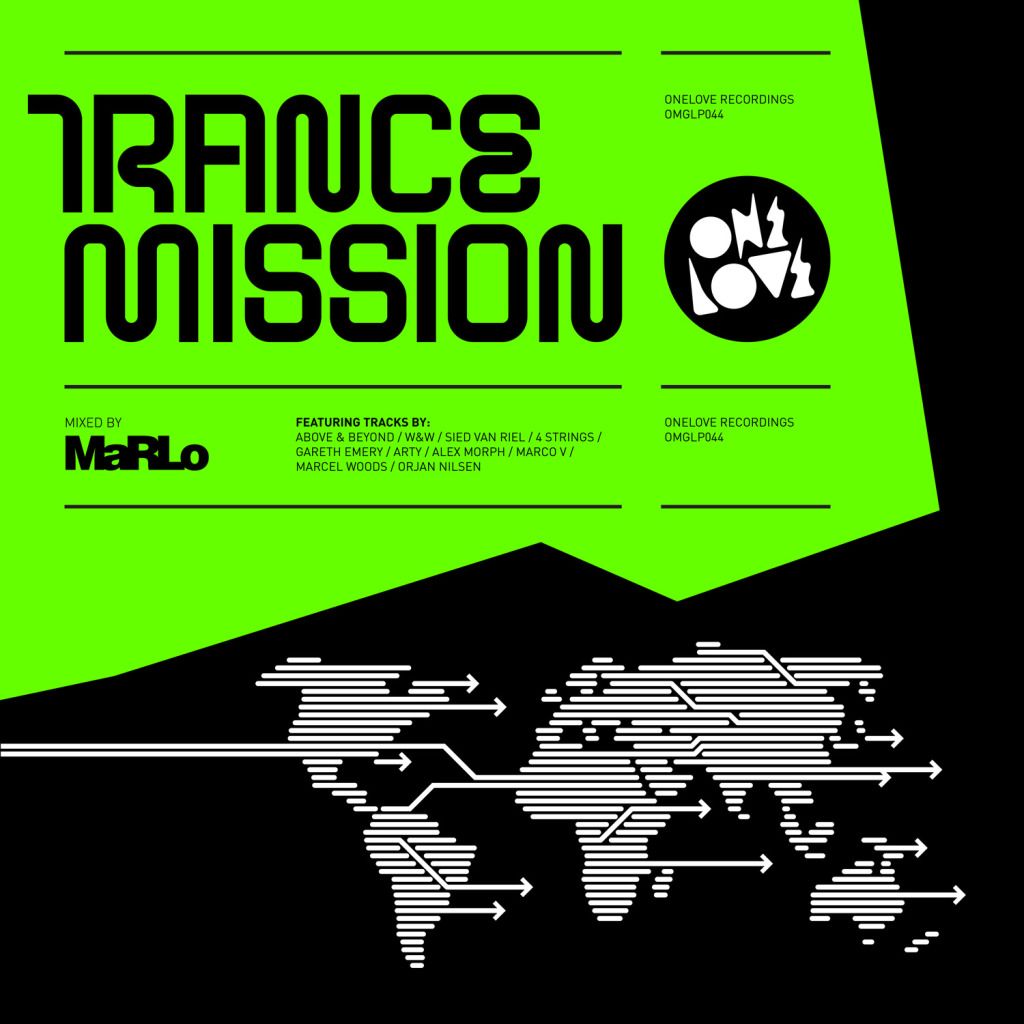 TRANCE MISSION is a new compilation series from the onelove team that will take Trance to another level. After successfully branching out with their hugely popular 'Dubstep Invasion' CD series, onelove has recognised first hand, the massive response that touring global superstars such as: Tiësto, Armin van Buuren & Paul Van Dyk have had with Australian audiences. This was also proven at the mammoth Creamfields and Stereosonic Festivals, as well as the success Dutch born & Australian resident MaRLo has been having not only locally but globally.
As a result of the increasing popularity of trance, onelove delivers its first ever trance CD: TRANCE MISSION. Trance Mission is a double Disc mixed CD, from DJ/Producer MaRLo featuring some of the biggest crossover tracks and remixes from the scene's biggest artists.
Dutch born & Australian resident, MaRLo is not your typical trance producer, bringing something fresh to the world of electronic music. MaRLo's studio skills have seen him sign productions on trance super-labels such as: Armada, Spinnin Records, Blackhole Recordings, Flashover and many more. MaRLo's productions are always diverse, with no track sounding like the last, frequenting the Beatport top 10 and played by Tiësto, Armin van Buuren, Markus Schulz, Sander van Doorn, Ferry Corsten and many more.
Trance is the movement that has been the centre of the electronic music world since its start, ever evolving & elating the masses. This is its next journey.
TRANCE MISSION TOUR DATES (with MaRLo):
6 July - Academy, Canberra
7 July - Room 680, Melbourne
13 July - Family, Brisbane
14 July - Casbah, Cairns
20 July - Electric Circus, Adelaide
21 July – Shape, Perth
27 July – Home, Sydney
TRACK LISTING:
Disc One
1. Michael Woods – Airbourne (Original Mix)
2. Deas & Lubica – Choya
3. Tom Fall & Ben Nicky – Hammer (Original Mix)
4. Arty, Matisse & Sadko – Trio
5. Angger Dimas feat. Polina – Release Me (MaRLo Remix)
6. DJ Ange – Bolche (MaRLo Remix)
7. Sandro Silva & Quintino – Epic (Original Mix)
8. Antillas feat. Fiora – Damaged (Main Mix)
9. Sinéad – Within Temptation (Alex M.O.R.P.H. Extended Vocal Mix)
10. Paul Thomas & Weekend Heroes – Morena (Original Mix)
11. Marco v & Marcel Woods – Scream
12. Jono Fernandez feat Twin Atoms – Lights Are Fading (MaRLo remix)
13. Third Party vs Cicada – Feel
14. Hardwell – Spaceman
15. Omnia & Ira – The Fusion (Original Mix)
16. Above & Beyond feat Zoë Johnston – Love Is Not Enough (Club Mix)
Disc Two
1. 4 Strings – Cheesecake
2. Gareth Emery feat. Christina Novelli – Concrete Angel (Original Mix)
3. DGoH – Next Wave
4. Solis and Sean Truby – Marina (Aaron Camz Remix)
5. Marc Marberg with Kyau & Albert – Robotron
6. Stoneface & Terminal ft. Ellie Lawson – Breaking Through
7. Ashley Wallbridge – Mumbai Traffic (Club Mix)
8. W&W – Invasion (ASOT 550 Anthem) (Original Mix)
9. Mark Norman – PHANTOM MANOR (MaRLo Remix)
10. MaRLo – Silverback (Original Mix)
11. Sied van Riel – Tunnel Vision (Original Mix)
12. MaRLo – Showgrounds (Original Mix)
13. Ørjan Nilsen – Amsterdam (Original Mix)
14. Andreas Mats – Enterprise
15. MaRLo – Megalodon (Original Mix)
16. Indecent Noise ft. Ridgewalkers – Full Moon Fever (Power Dub)
Links to Mini-mixes:
Disc 1:
Watch
https://www.youtube.com/watch?v=GJL3gX3dvYA
Listen
soundcloud.com/onelovemusic/onelove-trance-mission-2012
Disc 2:
Watch
https://www.youtube.com/watch?v=9kjR-yxovRI
Listen
soundcloud.com/onelovemusic/onelove-trance-mission-2012-1
For more info, check out:
www.onelove.com.au
For more info on MarLo, check out:
www.facebook.com/marlomusic
www.youtube.com/marlotv
www.twitter.com/marlo_music
soundcloud.com/marlomusic
www.marlomusic.com