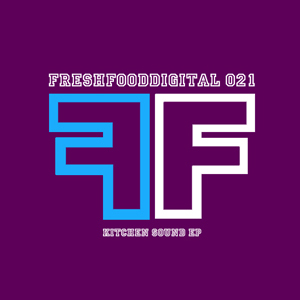 Label
: FreshFood Music
Artists
: Angelo Pomposo & Giuseppe Sorrentino
Title
: Kitchen Sound EP
Catalogue Number
: FFD021
Format
: Digital
Beatport Exclusive
: 29.06.2012
-------------------------
+ + +
About...
+ + +
-------------------------
FreshFood Music Label
's heads
Angelo Pomposo & Giuseppe Sorrentino
bring you a very delicious release together with a tasty live show.
Kitchen Sound EP
is a simple and effective
Tech-House release
with a very particular sound. The tracks have been recorded during daily cooking, then tweaked and mixed with various FX, which includes knives cutting food, forks, spoons, water sounds and voices from the market.
This release comes together with the presentation of the label's
LIVE Concept
: a performance like no other that mixes together the arts of music, video and cooking.
This performance stands far from traditional Dj sets
.
-------------------------
+ + +
Tracklist
+ + +
-------------------------
1
. Knives - Angelo Pomposo (Original Mix)
2
. Perfect Recipe - Angelo Pomposo (Original Mix)
3
. Sound Of Water - Giuseppe Sorrentino (Original Mix)
4
. Kitchen Noises - Giuseppe Sorrentino (Original Mix)
5
. Vegetables - Angelo Pomposo (Original Mix)
-------------------------
+ + +
Links & Samples
+ + +
-------------------------
FreshFood Music Website
Facebook
Myspace
Youtube Channel
Soundcloud
LIVE Concept
-------------------------
+ + +
The best Artists say...
+ + +
-------------------------
Dubfire
Downloading, thanks!
Richie Hawtin
Download.
Luciano
Thanks for the music!
Marco Carola
nice tracks
Markus Schulz
Downloading. Thanks
Paco Osuna
downloaded thank you
Gabriel Ananda
dl, thank you
Claude Von Stroke
DL. Thanks.
Someone Else
interesting ep
Misjah
nice! cheers
Franco Bianco
Great release!!! Thanks for the music!
))
Daniel Sanchez
Knives sounds great
Gare Mat K
will try. thx
Franck Valat
Angelo Pomposo's Knives are fun! Fresh track, thank you!
Nick Chatelain
downloading, full support! thn'x
DJ Samer
Perfect Recipe is interesting
Ken Liu
Perfect Recipe for me. Nice concept! Thanks
+ many others!
-------------------------
+ + +
Press & Radios
+ + +
-------------------------
Sascha Kösch (De:Bug)
considering for review
TJ (Igloo Mag)
'Knives' is a bit like a modernized Slits tripping over their beats, I like it. But then 'Perfect Recipe' uses the exact same percussive structure and some awkward cooking samples.
'Sound of Water' is something fresh!
Nano Vergel (Ibiza Global Radio)
Thanks for the music!! DL
Jordi Villalta (Ibiza Sonica)
downloading. thanx!
Tim Thaler (Bln.fm Berlin)
good stuff, thnx
Ed2000 (Bln.fm Berlin)
Always cool to get tunes from angello . he has his own style and sound - support!
Laurent Diouf (WTM Radio)
another wtm's playlist is coming soon...;-)
Jan Urban (Clubflavour.de)
Thanks! Very cool release. Knives for me!
Velanche (Velanche's Playtime)
This EP is making me hungry! Seriously, always great to get excellent work like this from talent that's new to me; well done!
Russell Deeks (This Is Why We Dance)
A bit minimal for me but will DL and give it a chance, quite liking Perfect Recipe
Jay Marshall (Dirty Rhythm Syndicate)
MY favourite here is 'Kitchen Noises'
Dado Funky Poetz (Radio Monte Carlo)
not bad!
Andreas Akratos (Re-Think Radio, Night Series)
Great concept! Liked the materialisation of that as well. I will use the Perfect Recipe extensively!
BOUM! TCHAK! (CIBL 101.5 FM Radio, Montréal)
Knives, Kitchen Noises and Vegetables are quite tasty! Like the bass and sounds on Perfect Recipe but not too sure about the vocal.
Koen Vandijck (FM Brussel)
Sound Of Water for us!
Talin (Radio 3Fach, Lucerne, CH)
great idea, great release! thx for this one
Riyaz Khan (DiversionsRadioToronto)
very interesting sounds overall...Sounds Of Water is my fave here!
Jose M. Afonso (DJ 1 Magazine)
Angelo Pomposo y Giuseppe Sorrentino han hecho un gran trabajo con cada uno de los tracks incluidos en este ep. Minimal y tech house muy potente y pistero.
The Bass-Room Radio Show
good one!
DJ Sterling (Club Control Future Radio, Sine & Saint FM)
Very different- but works
Hans Tavera (Afterhours Radio Show 99.1 FM)
Kitchen Noises Original for me!
Conecta FM
Good EP
Bons (Proton Radio)
Nice tunes!
Stefan Popovic (WTCHOUSERADIO)
Perfect Recipe for me. Weird but I like it
Rafy Nieves (Billboard Magazine)
vegetables is the one for me
DHL (enationFM Radio)
nicely done! very interesting approach. Perfect Recipe and Vegetables are top notch.
Koma (Jacbri Radio Show/Proton Radio)
interesting concept, Vegetables is my fav
Mikey Breaky (Flirt 101.3FM (Galway)
Good EP, Knives is my favourite cheers
Christallization Radio Show (Hyde & Sick)
sounds nice, thanks for sending!
Harry Avers (Noice Podcast)
this EP gave me the urge to cook...Kitchen noises is cool
Addicted To Music Radio Show (Comma Group)
thanks!
Jorge Navarro (Mega Radio Valencia)
thx!
+ more!
-------------------------
+ + +
Buy
+ + +
-------------------------
BEATPORT
JUNO DOWNLOAD
DILEK PR MICROSITE
And many other stores around the world!
-------------------------
+ + +
Promoted by
+ + +
-------------------------
Carolina Giordano / Dilek PR
cg [at] dilekpr.com
Facebook
Twitter
An album not promoted, is like an album not released