Out now on Beatport from Tulipa Recordings:
QuiQui - Victory Over The Sun
includes Standard Fair and Dansor Remixes
www.beatport.com/release/victory-over-the-sun/935512
Featuring support from Richie Hawtin, Luciano, The Timewriter, Paco Osuna, Spartaque, and many more!!
QuiQui - Victory Over The Sun
TULIPA037
1. QuiQui - Victory Over The Sun (Original Mix)
2. QuiQui - Victory Over The Sun (Dansor Remix)
3. QuiQui - Mesmerizer (Original Mix)
4. QuiQui - Mesmerizer (Standard Fair Remix)
5. QuiQui - Just Believe (Original Mix)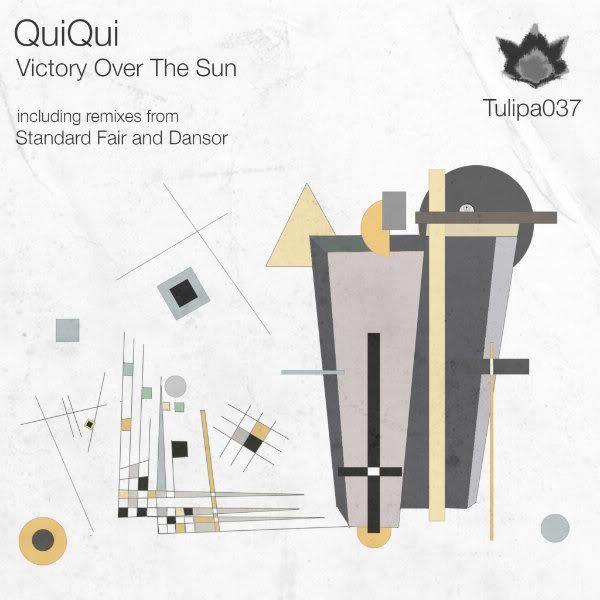 QuiQui steps up and delivers his seminal Victory Over The Sun EP on Tulipa Recordings. He has been refining his style for the past year and has tapered his choice of instrumentation and percussion down to only the most superb and effective arrangements. This EP has been inspired by his love for unique music, art, and culture.
The title track fires up memories of lost love, momentary passion, and bittersweet ruses. The exotic lead and desperate vocals suggest reflections of dark skies looming above hidden romances. Dansor lends her hand to the story and builds a remix that further delves into a tropical world of guilty bliss and foreign pleasures. QuiQui's second original, Mesmerizer, soothes the soul as it horizontally steers its groove deep into the sunset. Standard Fair redirects the tune by adding classic house elements while still largely maintaining the initial spirit and motion of the original. Just Believe ends the EP as another ode to the finest stylings of deep house music. The infectious melody opens a hole in the night sky and spreads outward in unseen directions.
QuiQui is one of Tulipa's masterminds. He is determined to fuel the flame that smolders within him. Victory Over The Sun is a story of experience and inspiration. He conjures compositions that yearn from the inside out, and insures that they explode both upward and inward in a most dramatic way.
2012 Tulipa Recordings
www.tuliparecordings.com
Artwork by Hanna Mese 'Meshe'
FEEDBACK & SUPPORT:
Richie Hawtin - download for r hawtin
Luciano - thanks!
The Timewriter - The Original is great. Will play!! Thanks
Slam - will try out thanx
Paco Osuna - downloaded thank you
Spartaque - full support
Axwell - Will listen too for axwell
Barry Jamieson - Nice deep sounds
Ian O'Donovan - Nice, deep & moody on Victory Over the Sun Original. Thanks.
Jorge Savoretti - good tripy trax!
Andrea Ferlin - Standard Fair Remix for me thanks
Abyss - full support!i'll play soon!
Justin Berkovi - Great stuff!
Prudo / Alfa Romero - will try it out.
Wacker & Zittrich - Very nice summer track
Soundexile (Baunder) - Just Believe is nice, thanks!
Martin Garcia - Thanks for the music
Lonya - Like the vibe , very good tracks , from the first listen Standard Fair remix is my fav
Markus Schulz - Thank you! Please check Global DJ Broadcast to see if the tune is supported.
Animaltek (DJ Earthian) - like Victory Over The Sun (Dansor Remix) and mesmerizer original, thanks will play
Kasey Taylor - some cool stuff one this one, thanks
Kassey Voorn - Victory original for me, thanks
Silinder - really hard to pick a favourite, all pretty good
Alex & Filip (Alex Nemec) - like the deeper side here, all strong!
Scotty.A - deep sounds, standard fair remix for me. thanks
Darin Epsilon - Great package! Especially digging these remixes.
T-Lectual - Over the Sun orig for me! Nice track!
Soulwerk - Diggin Victory over the sun & Just believe, thanks Brendon!
Cactus Twisters - Dansor remix is very nice for this summer
Like the original too ! Nice release, support!
Ecco - very nice! Victory Over The Sun (Dansor Remix) for me
Luke Mandala - The original and remix of Mesmerizer I will be playing
Beaumont Stanford - Victory Over The Sun original mix for me...
Sean McClellan - Victory Over The Sun and Msmerizer are the one for me in this pack. Thanks for sending!
Daniel Mehes - very nice mellow sounds, Mesmerizer origi was my fav!
Nick Stoynoff - Victory Over The Sun for me
Marcelo Vasami - good stuff thanks.
Sasha Le Monnier - Nice groovy work from Dansor, nice material from her! Also the original of Victory Over The Sun is nice.
Seb Dhajje - "Victory Over The Sun" original is just amazing, great vibes, thanks!
Andy Newland - nice sounds on the originals
Hall North - Standard Fair for me - cheers!
Gerardo Boscarino - will fit perfectly on my housier beach sets
Sonic Union - Some absolute fantastic deep vibes here! 'mesmerizer' and ' vots' sound great!
Issac - Huge package! support. Thanks.
Yamil Colucci - Good sounds, thanks!
Vinayaka - nice vibes in this ep ..
will defo be playing the original..
Nomean - Mesmerizer & Dansor remix for me. That guitar theme is gorgeous! Well done!
Lefrenk - Elegant deep tracks, nice ep, thanks.
Igor Cold - sunny time. cool release
Andrea Fissore - Great stuff! will support! thanks
Artur Reimer - nice ep, great summer vibes!
Sun H - dansor remix for me ,thanks
Valeria Croft - Just believe is cool.Thanks!
Will McGlone - I will be supporting Victory Over the Sun, original!
Soundbalance - Will play the Dansor remix!!!
Josh (Grant Bay) - Nice release! I like the Victory Over The Sun Original best- although the Dansor Remix takes a nice twist on it as well
Chad McNeely - Some great opening material here.
Todd (Resident Advisor) - Thanks.
Benoit C (Tsugi Publication) - coool ep
Bleed (de-bug) - considering for review
Jeff Roll (Gradient Magazine) - Victory Over the Sun Original is great...
Pena - standard fair for me.
Kenny Wee - dansor take on victory over the sun is quite interesting and totally into Mesmerizer!!
Markku Arimo - Victory Over The Sun is big! both mixes are solid. Standard Fair remix would be the third track that fits what I like at the moment. Thank you for sharing. Full support.
Elia - nice pack! victory over the sun for me! support
Enzo - very nice quality ep
Neuro - very cool housey release! B)
Exothermic - QuiQui is some great talent.
AVAILABLE ON BEATPORT HERE:
http://www.beatport.com/release/victory-over-the-sun/935512