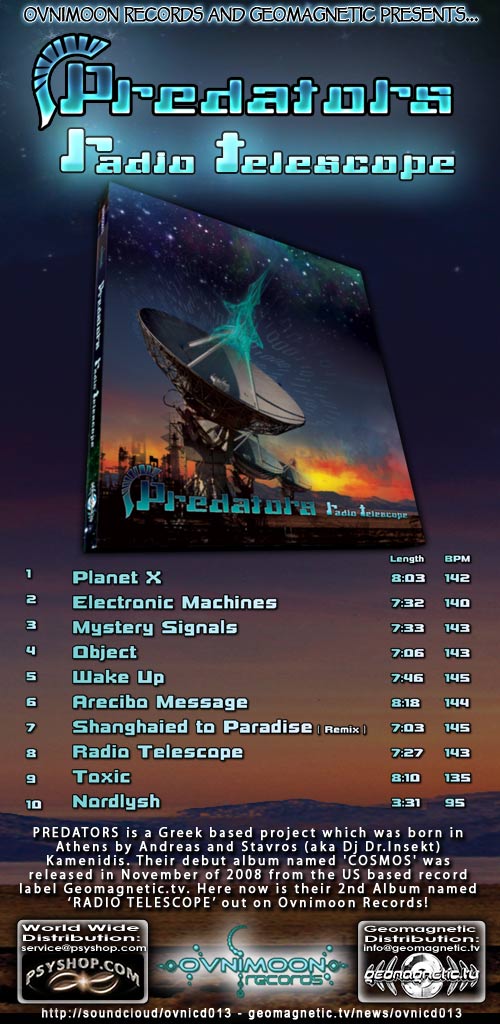 www.geomagnetic.tv/news/ovnicd013
  <- Full Preview
www.psyshop.com/shop/CDs/ovn/
  <- Buy Here Soon
Predators – Radio Telescope [ovnicd013] (Ovnimoon Records / Goa Records)
Title: Radio Telescope
Artist: Predators
Label: Ovnimoon Records, sub of Goa rec
Catalogue: OVNICD013
Format: 2 Panel Jewel Case CD / DDL
Barcode: 881034501431
Release: June 2011
TRACK LIST 
1. Planet X
2. Electronic Machines
3. Mystery Signals
4. Object
5. Wake Up
6. Arecibo Message feat. Psukoy
7. S.U.N. Project - Shanghaied to Paradise Remix
8. Radio telescope
9. Toxic
10. Nordlysh
Artist Notes:
Enormous power gyrates the intricate mechanisms and channels giga-watts of raw electromagnetic fields capable of discerning the most subtle rhythms and bass fluctuations that sing the cosmic anthem of the celestial firmament and echo deep in the gigantic steel dishes arrayed across the planet for maximum effect. After their super nova explosion launched their epic first album "Cosmos" well known for uplifting dance floors from here to infinity the Predators are proud to present the finely tuned 2nd Full Album titled: Radio Telescope. A team of valiant engineers from across the globe each provided their high tech touch!
PREDATORS is a Greek based project which was conceived in Athens by Andreas and Stavros (aka Dj Dr. Insekt) Kamenidis. Stavros started djing in 1991 and after 5 years developing and mixing different styles of music, psychedelic trance won him over.
He is also playing every Tuesday live dj sets on
www.life892.com
webradio and works with
www.di.fm
webradio in which you can find many of his sets. He studied sound engineering and movie editing and he is now working in both while making music and djing. Andreas started making music in 1997 when his passion for electronic music took all over him!! Till then Stavros was teaching him the Techno philosophy and he was hooked. After that psychedelic trance came into his life and made him start making his own music! In the meanwhile he studied sound engineering & music technology and in 2000 he released his first album called "Predator" (No1 in sales) under the project name Legion Of Space. After that he had a solo career for a couple of years till the end of 2002. So in January of 2003 they decided to share their knowledge in electronic music and they created the project PREDATORS. They have already released tracks in several labels & magazines such of Etnicanet, Kagdila, Geomagnetic, Warp Brain, Hinowa, SUN Project, Revolve, Freeze & others. Their debut album named 'COSMOS' released in November of 2008 from the US based record label Geomagnetic.tv.
info.predators@gmail.com | dr.insekt@gmail.com
Label Profile: www.myspace.com/ovnimoonrecords
Ovnimoon Records is a new label founded in 2010 based in Chile as an independent sub-label of Goa Records. Ovnimoon is the visionary producer whose name sake the label was based upon. All the music released with this imprint has passed his approval as true high quality gems of psychedelic goa trance. Expect only the top shelf selections worthy of the best collections and praised by the most noteworthy DJs in the world. www.ovnimoonrecords.com
Goa Records is now a well established label founded in 2006 based in California/USA. Focused on finding the very best of the worlds leading psy-trance and goa-trance hits and compiling these into a highly commercialized package suitable for mainstream distribution outlets. Expect a steady stream of high quality, cutting edge releases from this already amazingly popular new label. www.goa-records.com www.geomagnetic.tv
CREDITS/CONTACT INFO:
Distribution by Psyshop & Geomagnetic Distribution
(p) and © www.Geomagnetic.tv
www.geomagnetic.tv/news/ovnicd013
info@geomagnetic.tv