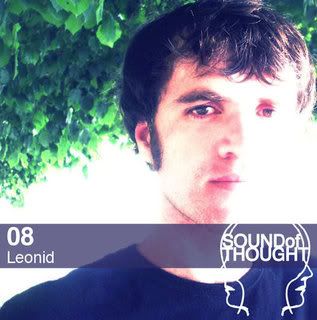 Sound of Thought 08 | Leonid
The next installment of this podcast series hears the mysterious Leonid (aka Paul Smith) being brought ever-so-slightly out of the proverbial shadows, with a delightfully crafted foray into some of the more eclectic shades of house and techno.
Little is known about this Irish producer, though with a release on Leipzig's Statik Entertainment and two more on Patrice Scott's Sistrum Recordings imprint along with only a couple of other appearances to speak of over the last five or so years – a commitment to considered, layered depth, and quality over quantity, is exemplified almost unlike any other.
Paul was kind enough to answer some of our questions, and in the process of doing so helped shed some light on where he is coming from as an artist what he is currently feeling living in his newly adapted home of Spain.
Enjoy, what surely is at this point in time, a very rare trip in sound.
Exclusive Leonid Interview
Soundcloud
Subscribe with iTunes
Tracklist to follow soon.