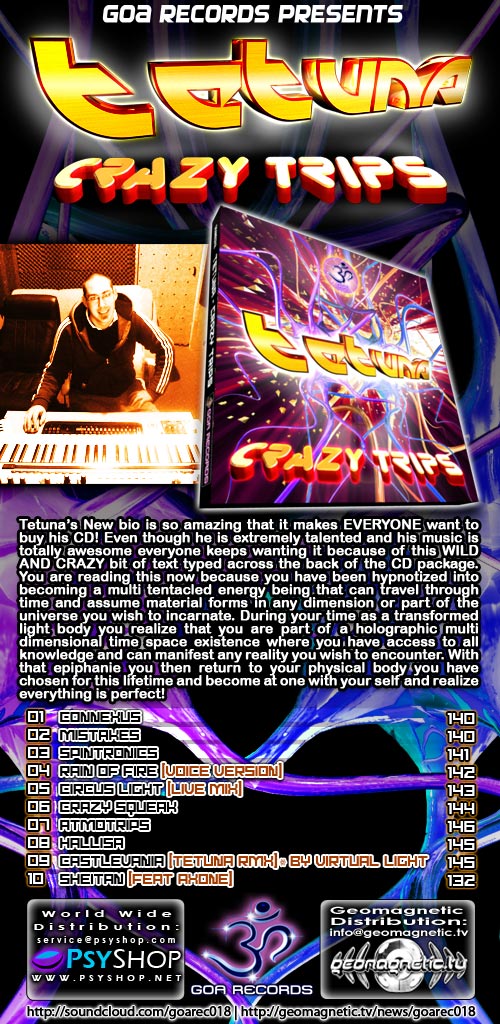 --------------
Full Preview Here ->
soundcloud.com/goarec018/
www.geomagnetic.tv/news/goarec018
Te-Tuna – Crazy Trips - goarec018 ( Goa Records / Geomagnetic.tv )
Title: Crazy Trips
Artist: Te-Tuna
Label: Goa Records /Geomagnetic.tv
Cat: GOAREC018
Format: 2-Panel JewelCase Audio CD
Barcode: 881034889638
Release:
TRACK LIST
1 - Connexus
2 - Mistakes
3 - Spintronics
4 - Rain of Fire ( Voice Version )
5 - Circus Light ( Live Mix )
6 - Crazy Squeak
7 - Atmostrips
8 - Hallisa
9 - Virtual Light Castlevania ( TeTuna Remix )
10 - Sheitan ( With Axone )
RELEASE NOTES
Goa Records prowdly presents Crazy Trips the seconds album from the Melodic Goa Psytrance mastermind Te-Tuna! This Crazy Trip will take you deeper into your mind and body through beautifully crafted synth patterns flowing smoothly together with classic acid goa twists and turns. Te-Tuna's music embodies the feeling of the sun riseing onto the dance floor, when you are forced to smile as wide as you can with each synth rise and new lead part. Following the release of his debut album 'Psychedelic Transition' on Goa Records, he has released tracks on Spun records, and various global compilations since 2008 and he took 2nd place in the "Cytopia Artist Competition" with his tune "Hallisa".Te-Tuna's tracks have been played constantly in parties around the world and now with his new release 'Crazy Trips' he continues with his same spirit and goal: "music for the dancing and dreaming people! Te-Tuna, premier Trance producer from France is Damien Papott aka dj Dam, part of psy-org Phoenix Frequencies (France) and Geomagnetic.tv (San Francisco - USA). He discovered psy trance in 1996 by listening to a goa and ambient radio show "Take Off" presented by dj Pulsate/Signs who later would collaborated with TeTuna on the hit track "Ancient Flying Technologies" and dj M-Rik from Moon Spirits rec. Dam was added to the team more than 6 years ago and played dj sets on the radio and at parties. He then started his own project and began to produce dancfloor oriented morning Psytrance with his musical knowledge. Geomagnetic will be presenting the world with Tetuna's 3rd album 'Electric Alien' very soon.
Label Profile: www.goa-records.com
Goa Records is now a well established label founded in 2006 based in California/USA. Focused on finding the very best of the worlds leading psy-trance and goa-trance hits and compiling these into a highly commercialized package suitable for mainstream distribution outlets. Expect a steady stream of high quality, cutting edge releases from this already amazingly popular new label. www.goa-records.com www.geomagnetic.tv
CREDITS
Written and Produced by: Damien Papott
Mastered by: Sergio Chavez
Distribution: Psyshop.com / Ingrooves
© Geomagnetic.tv / Goa Rec
mp3 Samples online.
geomagnetic.tv/news/goarec018
www.psyshop.com/shop/CDs/gre/.html
info@geomagnetic.tv