JOHN SHIMA - APOAPSIS EP 12" [ 15-diam.]
300 limited and handnumbered vinyl copies worldwide. No digital distribution.
Release: 04.Feb. 2013.
SOUNDSNIPPETS AND PREORDER AVAILABLE HERE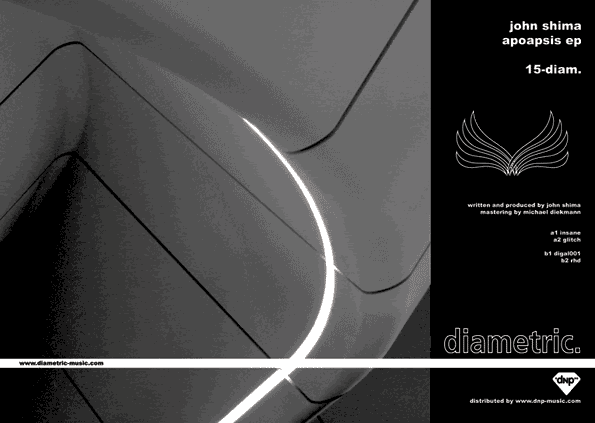 a1_insane
a2_glitch
b1_digal001
b2_rhd
Sheffield based John Shima joins the diametric. family. After a series of digital releases in the last years it is a tremendous pleasure to release the very first vinyl 12" of John on diametric. His music could be easily described as the logical progression of the legacy of famous UK acts such as B12, Stasis or Nuron, but that would be only half the story really.
John mixes very emotional and deep techno with intrinsic and delicate rhythmic structures, in parts even harsh sounding bitcrushed percussions, and IDM influences together to his very own special blend. Now we can already hear the stupid comments from the haters saying that his music doesn't sound new and like the next big hype but the simple answer is: Even if so, who gives a f#ck? It's great electronic music and diametric. certainly hopes you enjoy this record and are blown away like us.
300 handnumbered limited vinyl copies only. No digital distribution.
([url]http://www.diametric-music.com)
Worldwide distribution: Diamonds & Pearls Berlin ([url]http://www.dnp-music.com)