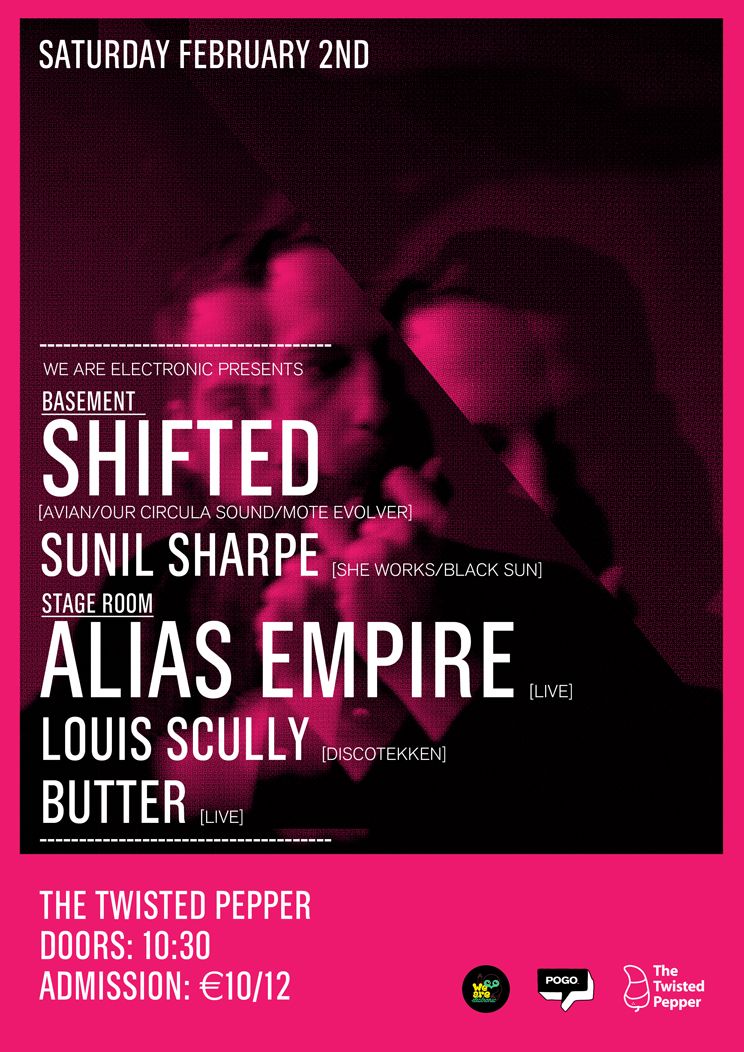 We Are Electronic present...
The Basement
Shifted [Mote Evolver/ Avian/ Pacific Blue/ Our Circula Sound]
Sunil Sharpe [Sheworks / Black Sun Records]
The Stage
Alias Empire live
Louis Scully [Discotekken]
Butter live
The Box
Bang The Box
About the artists:
//Shifted\
2011 has seen Shifted rise swiftly from the murky shadows of UK Techno. Little is known of who the cryptic producer is, but rest assured of his credentials. 'Drained', his first of two EPs on Luke Slater's esteemed Mote Evolver imprint instantly grabbed the attention of the Techno fraternity. A heavy, muscular and stripped sound was born from what was to become one of 2011's most exciting Techno artists. Releases under the pseudonyms Pacific Blue and Relay soon followed, continuing along Shifted's Techno lines, but built on a deeper, more understated sound.
Appearing on a limited blue vinyl, 'Industry Part 1 & 2' was the opening release on the Pacific Blue 12" series, with remixes following from Sandwell District artists Rrose and Silent Servant at the tail of 2011. Shifted's growing demand as a remixer himself led to reworks of UK Techno legends The Black Dog as well as peers Sigha and Cio D'Or amongst others. Several 'secret' white labels were also released with which no name was attributed.
2011 also saw the launch of his Avian imprint. Confirming the calibre of Shifted's productions, the début (vinyl only) release 'AVN #001' struck a chord with its thudding drums and deep, pulsating stabs. The EP received weekly plays from Techno's top players and became a record that didn't leave the bag. The equally illusive London-based producer, Ventress, laid down the follow-up release cementing the Avian label as 'one to watch' in 2012. With these productions and remixes gaining warranted attention on the dancefloor, Shifted's gig diary matured accordingly, DJing at some of the world's best clubs including the fabled Berghain (Berlin) and Fabric (London).
Looking forward, Shifted continues on from his second Mote Evolver 12", 'Control', with his début album being released on the label in March 2012. Shifted has found home from home on the illustrious label and fits perfectly into its tough, hypnotic and often experimental style of Techno. On top of the Mote Evolver LP, 2012 will bring another solo production under the Pacific Blue alias, a remix for Planetary Assault Systems and undisclosed activity on his own Avian imprint.
https://www.facebook.com/shiftedUK?fref=ts
soundcloud.com/shifted
-
//Sunil Sharpe\
Sunil Sharpe is one of Ireland's most celebrated underground djs. Honing his turntable skills at the end of the '90s and playing his first gigs in late 2000, he also began a long running involvement in pirate radio, working at Dublin's Spindizzy record store and of course playing up and down the country as he became one of the "must see" djs around. Gaining a formidable reputation for his fast paced mixing style, Sunil soon started to play regularly abroad too, including an early invitation to dj at Berlin's Tresor Club in 2001.
Sunil's first vinyl releases came in 2006 but with a much greater focus on music-making in the last few years, he has been earning widespread attention for his productions that have arrived on some of techno's key labels like Black Sun Records, Komisch and Blawan & Pariah's 'Works The Long Nights' (Sheworks). With techno moving back to a more intense sound again recently, Sunil's music has never felt more at home. His own label Earwiggle also releases sporadic 12"s and so far counts anodyne, Steve Stoll, Paul Birken and Freddy Fresh amongst its small group of artists.
A valued cog in the wheel of the Irish electronic music scene, Sunil has been a monthly fixture on national station RTE 2FM since 2007, where he showcases his top picks of new music and features guest mixes/interviews from some of his favourite acts. He is also a DJ Techniques tutor at Bray Institute of Further Education, where he has taught since 2005. Sunil's popularity extends beyond the techno scene too, and was further acknowledged at the last Irish Dance Music Awards when he was voted Best DJ.
With some exciting releases on the way and as broader awareness develops towards his talent as a dj, Sunil is entering an interesting new stage in his ever-evolving musical career.
www.facebook.com/sunilsharpemusic
www.soundcloud.com/sunilsharpe
-
//Alias Empire\
Alias Empire are a Dublin/Belfast 3 piece who combine synths, programming and samplers with guitars, live vocals and drums to create controlled chaos in their live shows and layered soundscapes on their records. They release their much anticipated 2nd album 'Safety In Numbers' this April and current single 'Lay Down' is available now.
www.aliasempire.com
www.youtube.com/user/AliasEmpire?feature=watch
www.facebook.com/pages/Alias-Empire/192833847486478?ref=ts&fref=ts
-
//Butter\
Dublin based neo-soul outfit Butter are known for their innovative renditions of classic neo-soul and hip hop covers. Featuring some of Ireland's most talented jazz and hip hop players, Butter are fast making a name for themselves as one of a fine few live neo-soul acts in the country. The group cover artists such as D'Angelo, J Dilla, Bilal, Slum Village, Radiohead, Massive Attack and R Kelly and are known to whip up quite the groove frenzy in some of their extended improv sets. Butter consists of vocalist Georgia Cusack, Sean Maynard Smith; bass, Dennis Cassidy (Mixtapes from the Underground); drums Darragh O'Ceilligh (Republic of Loose); keys, Chris Engel; Alto & Soprano sax and Sam Comerford; Tenor sax.
https://soundcloud.com/butterattheinternational/butter-unfinished-smyphon
-
-
WE ARE ELECTRONIC
www.facebook.com/weareelectronicmusic
www.twitter.com/WeAreElectronic
Event on Resident Advisor:
www.residentadvisor.net/event.aspx?430025
Event on Facebook:
https://www.facebook.com/events/461369237242580/