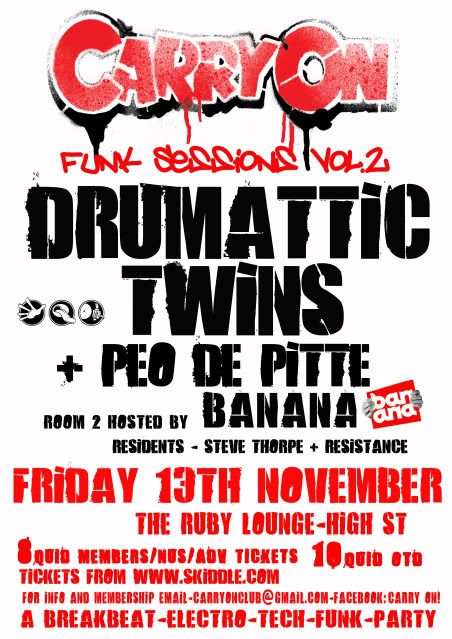 Drumattic Twins
Peo De Pitte
Banana
Steve Thorpe
Resistance
Friday 13th November. The Ruby Lounge, High Street, Manchester
For our last event at The Ruby Lounge and for our Funk Sessions Vol2, we are very pleased to have the Drumattic Twins return to Manchester after playing a brilliant set at the Tangled 15th Birthday last year.
The one-time old skool ravers (aka Shades Of Rhythm) have now released two albums on the Finger Lickin label, Drumattical and Hammer & Tongues and their most recent single - Deep Throat has been a huge summer club anthem.
Their unique expolsive funky sets, combining decks & fx make them stand out amongst the rest.
Download their latest mix here -
http://www.thisisbreaks.com/profiles/blogs...sh-new-mix-from
The DTs are joined on this event by breakbeat, electro, fidget wonderkid Peo De Pitte, whose recent remixes have gained him massive support right across board, from Herve, Fake Blood, Plump Djs, stanton Warriors, Meat Katie & Kissy Sell Out. This Swedish born producer/DJ is certainly one to check out!
Download his fabulous wobbly-acid-electro-funk mix here -
http://flatoutrecords.com/mixsets/peodepit...mmermixset2009/
Our second room is hosted by Banana Management, supplying a cutting edge mix of Electro, techno & dubstep
£8 advanced tickets are available from
http://www.skiddle.com/events/11331950/
£10 otd
Doors - 11.00pm - 4.00am
[size=150]
Please note - This is our last event at The Ruby Lounge.

Our next event is Carry Funk Sessions @ Moho Live with A-Skillz on Fri 11th Dec.[/size]
(Discounted joint tickets for both Nov & Dec events are availble from http://www.skiddle.com/events/11331950/ for a limited period)